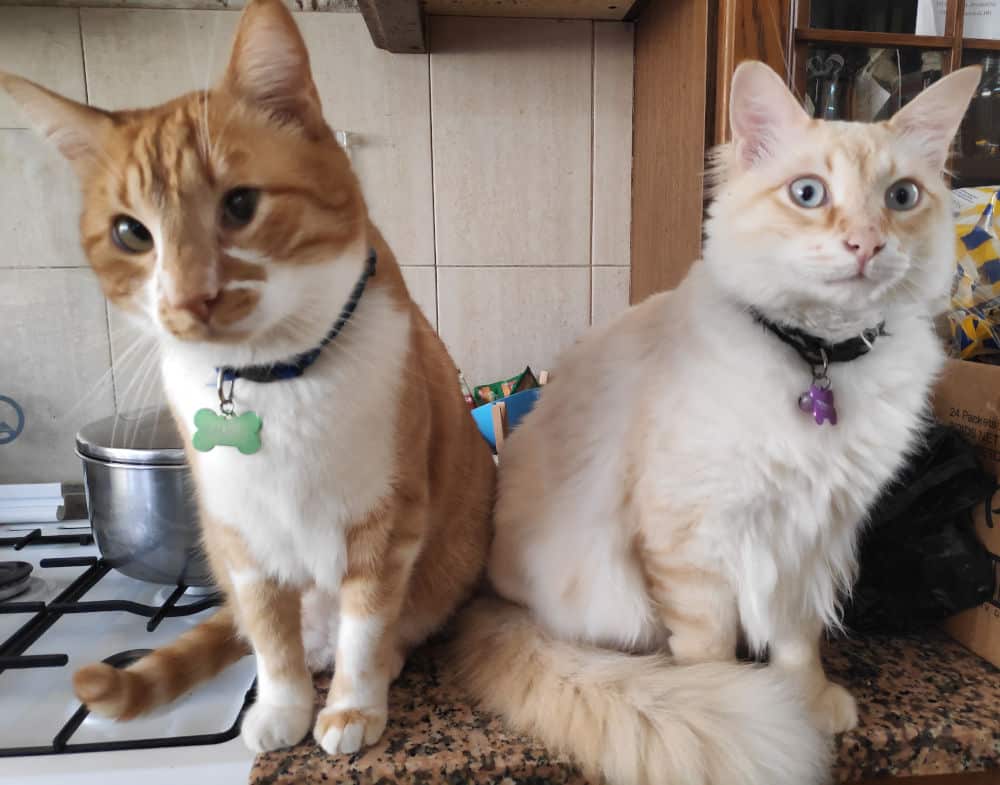 Greetings everyone. Let me introduce you to my two adopted stray cats named Ghost and Gingy. Both were street-roaming kittens, but they are now living in a loving home. They provide me and my family with a lot of comfort, security and love.
Public concern for mental health issues might be increasing due to the imposed confinement as a result of the current Coronavirus pandemic. The state of being stressed and anxious is common. It can be marked by "feeling constantly under strain, loss of sleep over worry, and feeling unhappy and/or depressed" (Heck et al., 2014). Elevated and persistent stress contributes to these feelings as though we don't have the resources to cope (Robotham & Julian, 2006).
Since I am a pet owner, I have had first-hand experience of the immediate joys that animals bring into one's life. Sometimes we are not even aware of the physical and mental benefits that these furry companions give us. Pets have evolved to become attuned to the behaviour and emotions of humans. For example, my cat is attuned to my tone of voice, body language, sleeping patterns and gestures. Funnily enough, Ghost acts as my alarm clock, as he wakes me up in the morning to go to work. Pets can reduce stress, anxiety and depression, ease loneliness and even encourage playfulness, creativity and exercise. In addition, pets add real joy and unconditional love to our lives (Wood, Ohlsen, Thompson, Hulin & Knowles, 2018).
Most pet owners are vocal about the great joys that come with welcoming companion animals into their lives. However, many of us still remain unaware of the physical and mental health benefits that go hand-in-hand with the pleasure of snuggling up with a furry friend.
Social isolation has thrown us into a scenario where we now miss human touch. However, pets can help us satisfy this basic human need. Stroking, hugging or otherwise touching a loving animal can rapidly calm and soothe us during episodes of stress and anxiety. The companionship of a pet not only can ease loneliness but for example, many dog breeds are a great stimulus for healthy exercise, which can substantially boost our mood and ease depression.
An animal's companionship can offer comfort in one's own home, as well as build self-confidence for people anxious about going out into the world. This is because pets live in the moment and don't worry about what is going to happen next.
I would like to emphasise that we can learn an important lesson from our little, unassuming friends. That is, don't kill yourself with worry, as long as you take all the necessary precautions to safeguard yourself and your family.
References:
Heck E, Jaworska N, DeSomma E, et al. (2014). A survey of mental health services at post-secondary institutions in Alberta. Can J Psychiatr, 59, 250.
Robotham D, Julian C. (2006). Stress and the higher education student: A critical review of the literature. J Further High Educ, 30, 107–17.
Wood, E , Ohlsen, S , Thompson, J, Hulin, J & Knowles, L. (2018). The feasibility of brief dog-assisted therapy on university students stress levels: the PAwS study. J Ment Health, 2018; 27(3): 263–268.