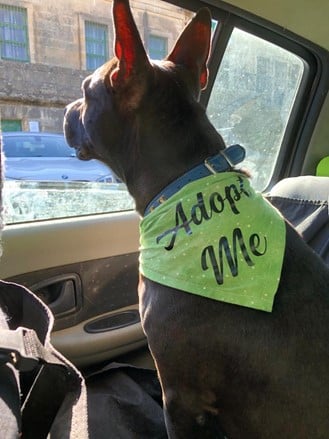 Bee is a large and muscular, black dog. In contrast, his puppy-like face is irresistibly adorable. He is an AmStaff mixed breed and was adopted by Shane and Melanie, a kind-hearted couple who regularly volunteer at a dog sanctuary. Apart from being a loyal and loving pet dog, Bee also accompanies his human friends during adventures whenever a dog that is in danger needs rescuing.
In April 2021, Melanie and Shane became aware of Tiny, a dog that had gone missing for quite some time, as did most of the general public, as his owners had rigorously posted about his disappearance all over social media. One day, while quietly strolling in the countryside with the couple, Bee suddenly halted like something unexpected had caught his attention. Shane and Melanie saw their dog frozen still, looking intently at something far away with his ears pricked up. "What's the matter Bee?", asked Melanie with a perplexed look on her face. He didn't respond and kept staring fixedly into the distance. "Is that who I think it is?!", thought Bee to himself. He became increasingly convinced that he had indeed seen that missing dog.
Bee could only imagine what this poor fella must have been through while wandering alone, scared and starving in the cruel wilderness. This experience brought flashbacks of past heart-breaking traumas of when he was abandoned on a busy roadside, shoved out from the back seat of a car by his previous owner, just like an unwanted sack of trash to be disposed of. This painful memory almost brought a tear to his eye, but he immediately shook it off as he came back to reality. Bee started barking excitedly, non-stop at his humans to raise the alarm. Instinctively, Bee rushed to where he spotted Tiny, while Shane and Melanie followed his lead.
Bee remained persistent while frantically sniffing around. His perseverance took everyone to a high, steep climb. All was silent except for the creaking sounds of the tree branches and footsteps. Eventually, the path levelled off and everyone arrived to a narrow stream, which they splashed across. Somewhere among the rocks, a dog could be heard barking. Bee, who was still leading the way, caught a glimpse of a cabin roof above the crags. Finally, everyone reached the cabin panting and out-of-breath. When they slid the cabin door open, in the far corner underneath a wooden bench was a trembling, ragged-looking dog. Bee gently proceeded forward to reassure the poor creature. His human friends followed him slowly.
After the whole ordeal was over, Melanie and Shane phoned Tiny's owners to deliver to them the exciting news. However, to everyone's dismay, the voice at the other end of the line informed them that they could not take him back and abruptly hung up. The disappointed couple had no other choice but to take Tiny to the dog shelter. There he was fed, washed, and well taken care of. After being fully rehabilitated, Tiny was then put on a waiting list to be rehomed, sooner or later. A situation like Tiny's and many other dogs can result in them getting adopted imminently, sometimes within months. Unfortunately, for a luckless number of dogs eager to form part of a family, this never happens. This is why when someone decides to buy or adopt a dog, they need to be fully aware that this is a life commitment, the same as if you were to adopt a child.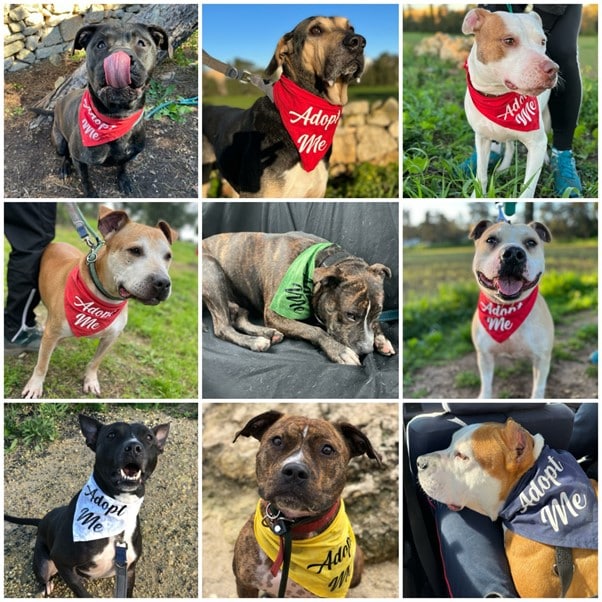 Tiny acquired the habit of patiently waiting for the volunteers at the shelter to feed him and pat him as if his life depended on it. Every morning, as the first cars are heard approaching the sanctuary, the frenzied barking of the four-legged residents resumes like a persistent cacophony. With tongues hanging and tails wagging, the canine creatures thoroughly enjoy their daily walk in the fresh morning air.
When one enters the sanctuary, they can see behind bars facing one another, plenty of rows with dogs exuberantly greeting incomers. The sight of dogs behind bars might raise a few questioning eyebrows. Nonetheless, one cannot help but notice the love, care and dedication of the people providing their welfare.
The aim behind this story is to help us understand that pets, whether fluffy, feathery, or scaly, are the perfect distraction in our day-to-day. Playing with pets releases happy hormones in our brains. A well-kept pet that is being taken care of can be a fantastic distraction from excessive worrying and overthinking. Both the pet owner and the pet itself can benefit from mutual interaction. Have you ever noticed that taking the dog out for a walk distracts you from your worries and strengthens the bond with your pet? If you don't have a dog or cannot adopt one, you can still benefit from this feel-good feeling by visiting a dog sanctuary. In Malta, we have several different kinds of animals, whether it's dogs, cats or horses.
For a regular dose of pet therapy, I would encourage you to consider volunteering at one of these shelters. If you are considering adopting a dog, there are many animals eagerly waiting o be given a chance.
All the dogs in these pictures are waiting to be adopted.